The latest news regarding our Pour for a Paw Fundraising Event (5/31/2020)
For those of you wondering, our fundraising event Pour for a Paw is still on hold.
The board is currently discussing a virtual silent auction versus holding the event in person later this fall.
Unfortunately, some of the items that were graciously donated have expiration dates.
Please bear with us during this decision making process.
If you would prefer to receive a refund now, please send an email to directors@azbeaglerescue.com.
Thank you for your patience!
Pour For A Paw (POSTPONED)
We regret to inform you that Pour for a Paw has been postponed. A new date will be announced soon.
Stay Tuned!
Join us at Grimaldi's Pizzeria in Downtown Scottsdale for the 2020 Pour for a Paw Fundraiser benefiting Arizona Beagle Rescue (AZBR).
Come prepared to sample an array of pizza, win a delectable bottle of wine at our "mystery wine cork pull" and bid on our amazing silent auction.
100% of the proceeds go directly to our needy beagles for their medical and dental expenses.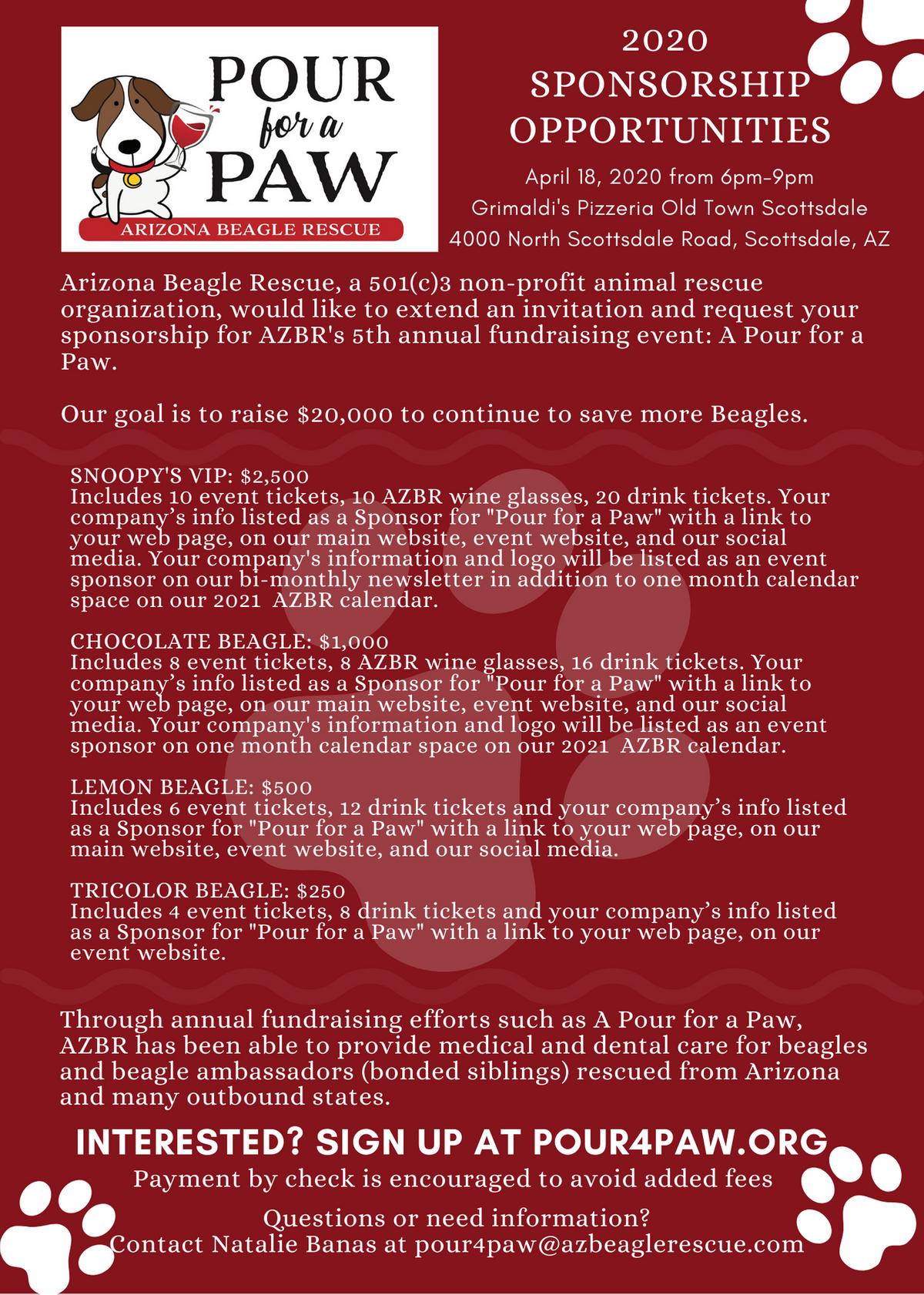 Sponsorship
If you're looking for a way to promote your business and help the animals, while making a positive impact in our community, check out this year's sponsorship opportunities!
Partnering with Arizona Beagle Rescue enables your business to benefit from the enormous appeal of animals while supporting the more than 100 beagles that come into our rescue needing second chances every year.
The Power of Your Support
$100 installs microchips in 10 dogs, keeping them easier to find if ever lost
$500 allows us to medically board 6 dogs, keeping them safe for future pre and post op surgery and foster transfers
$1,000 provides appointment made medical surgery for one (1) injured dog
$2,000 provides full vaccinations for 25 dogs, keeping them safe from diseases
$5,000 provides spay/neuter surgeries for nearly 15 dogs
$10,000 provides dental surgery and tooth extractions for 16 dogs
$20,000 provides EMERGENCY medical surgery for 5-10 dogs
In 2019, we had 83 beagle intakes and adoptions. Our veterinary expenditures alone went above and beyond $60,000.
Businesses that contribute products or financial donations to our mission receive numerous marketing benefits. However, the greatest reward comes from knowing your sponsorship saves the lives of homeless animals each year. We have several sponsorship opportunities to meet your budget and marketing needs.
Choose the one that most aligns with your customer demographic and charitable philosophy.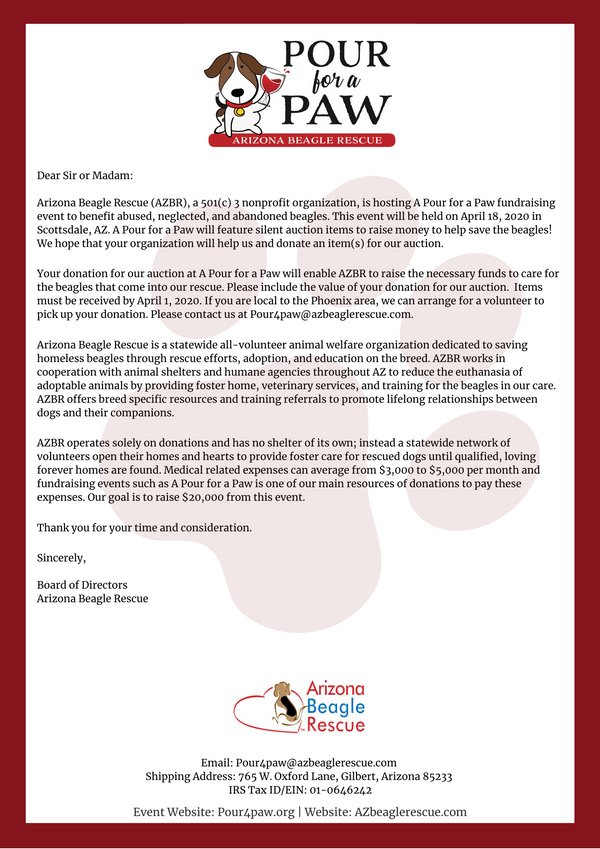 Support our Silent Auction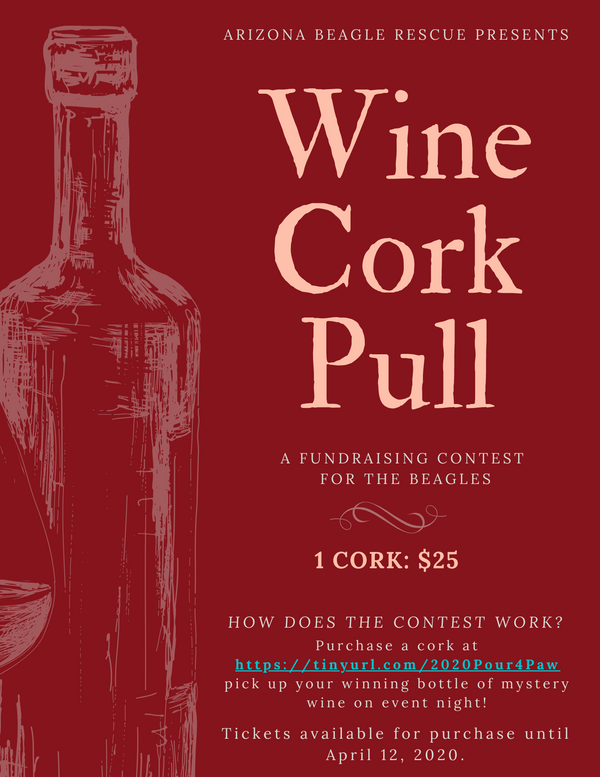 Have fun with our Wine Cork Pull Contest!
Purchase a cork...WIN a bottle of "mystery" wine!
Each bottle of wine has a value of $20-$100. Wrapped bottles of wine will be of different varietals and qualities from around the globe.
How does it work?
Pre-purchase a cork ticket. On event night, choose a bottle of red or white, at random, and take it home for consumption.
Corks are available for purchase until April 12, 2020.
Promote Pour for a Paw
Please help us share this information to common interest parties by downloading our various information flyers.
Feel free to distribute to your favorite pet friendly small businesses and corporations.
Don't forget to #hashtag #Pourforapaw2020. Thank you!